Video credit: Phocus Films
Thinking about choosing a destination wedding?
Choosing a destination wedding can offer a unique and memorable experience for you as the couple and for your guests. Here are some benefits of opting for a destination wedding in Pensacola Beach, Florida:
1. Scenic Beauty
The beaches and water in Pensacola Beach are breath-taking! Hosting your destination wedding at Pier Suite Event and Wedding Venue in Pensacola Beach offers overflowing opportunity to capture memories in picturesque background – *think* on our unobstructed balcony, white sandy beaches, blue-green Emerald Coast water, or on the Pier located just beyond our beachside event venue . The stunning backdrop provides a beautiful setting for the wedding ceremony and creates lasting memories.
2. Intimate Atmosphere 
Destination weddings tend to be more intimate as they usually involve a smaller guest list (Pier Suite Event and Wedding venue can hold up to 120, but we have many couples who choose to pare down the guest list). This allows the couple to spend quality time with their closest family and friends, fostering a more meaningful and personal celebration.
3. Built-in Honeymoon 
Since you're already at a fantastic location, there's no need to travel again for your honeymoon. In Pensacola Beach, you can seamlessly transition from your wedding celebration to your honeymoon, saving time and reducing stress.
4. Fewer Guests and Costs 
With a smaller guest list, destination weddings can often be more cost-effective than traditional weddings. At Pier Suite Events, our wedding and event packages provide the event space, tables, chairs, and linens (and of course, the priceless view!). We provide couples with our a list of amazing local vendors and they can craft every other details to their unique tastes. 
5. Less Stress
At Pier Suite Event and Wedding Venue, our team's purpose and mission is to help you create a celebration you'll never forget. Our team has extensive event planning expertise and vast connections throughout Pensacola Beach to help bring your beautiful vision to life. When you reserve your event date at Pier Suite, you can feel confident you have a team on your site that's one of the best in the industry. 
6. Extended Celebration
Destination weddings often turn into extended celebrations, with guests arriving a few days before the wedding and staying a few days afterward. This allows for more quality time with loved ones and creates a festive vacation atmosphere.
7. Cultural Experience
Choosing a unique destination like Pensacola Beach allows you as the couple and your guests to immerse in a different culture, try new cuisines, and explore the fun things to do in Pensacola Beach. 
8. Unique Wedding Photos 
The stunning backdrop of a destination wedding provides an opportunity for breathtaking wedding photos, different from the typical wedding album. These pictures can become cherished mementos of your special day.
Booking your destination wedding at Pier Suite Event and Wedding Venue sets the tone to create an unforgettable, unique-to-you day that you and your fiancé and wedding guests will talk about for years to come.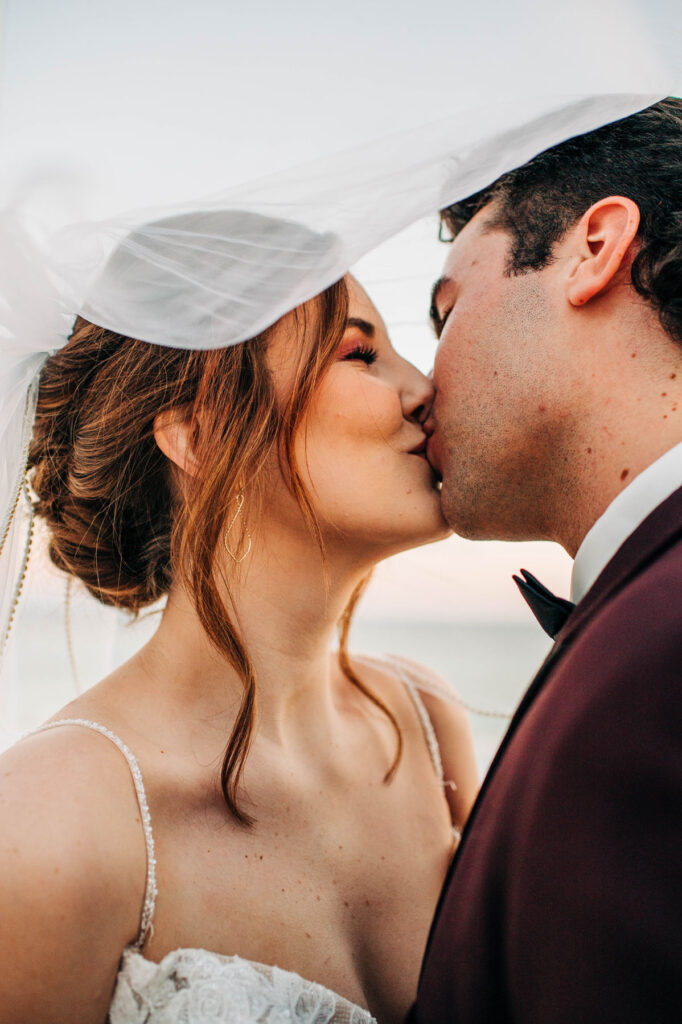 About our Pensacola Beach Wedding Venue
Pier Suite Event and Wedding Venue is just a few steps away from Pensacola Beach for breathtaking photos or first looks and is one of the only beachside event venues available in the Pensacola, Florida area.
The versatile event space floor plan acts as a blank canvas for couples to create a design that best suits their personal style. At Pier Suite Events, we provide the tables, linens, chairs, and space. Couples love that they get to customize the rest of the details to their exact taste. We can help guide you in choosing the perfect team of vendors that fits your needs.
A spacious balcony with an unobstructed view of the gorgeous Gulf Coast sits just outside the ballroom doors and makes an ideal space for celebrations under the sun.
Pier Suite owners, Laura and Michelle, love working with couples to help bring their dream wedding to life. Wedding packages include tables, linens, chairs, and the space. Click to review pricing or take a virtual tour of our beachside wedding venue.