Video credit: Dalton Young Weddings
Host your wedding at Pier Suite Event Venue on Pensacola, Beach
Hosting a wedding in Pensacola Beach, Florida, offers a variety of benefits that can make your special day memorable and enjoyable. Here are some of the advantages:
1. Scenic Beauty
Pensacola Beach is renowned for its stunning natural beauty, with white sandy beaches and clear turquoise waters of the Gulf of Mexico. This picturesque backdrop from the unobstructed balcony at Pier Suite event and wedding venue creates a romantic and picturesque setting for your wedding ceremony and photographs.
2. Beachfront Venue
Pier Suite Wedding and Event Venue is located directly on the beach, allowing you to exchange vows with the sound of the waves and the Gulf of Mexico breeze as your backdrop. Beach weddings can be intimate, laid-back, and unique experiences.
3. Mild Weather
Pensacola Beach enjoys a mild climate for most of the year, making it perfect for outdoor weddings. With plenty of sunshine and comfortable temperatures, you can plan your wedding with confidence, knowing that the weather is likely to cooperate.
4. Destination Wedding Appeal
For guests traveling from afar, Pensacola Beach can be an exciting destination wedding location for guests to get excited about their travels. It offers a vacation-like experience with various attractions, water activities, and entertainment options to keep your guests engaged throughout their stay. Read 5 Things for Your Wedding Guests to Do in Pensacola, Beach.
5. Accommodation Options
The area boasts a range of accommodation options, from luxury beachfront resorts to cozy vacation rentals. This variety allows you to accommodate different preferences and budgets for your guests, making it an enjoyable experience for all vacationers.
With so many benefits creating an unforgettable experience, Pier Suite Event and Wedding venue makes the perfect option to host your Pensacola Beach wedding.
Looking to talk with someone about the venue or reserve your upcoming event date? Click to contact the Pier Suite Event team.
About Pier Suite Event and Wedding Venue in Pensacola Beach, Florida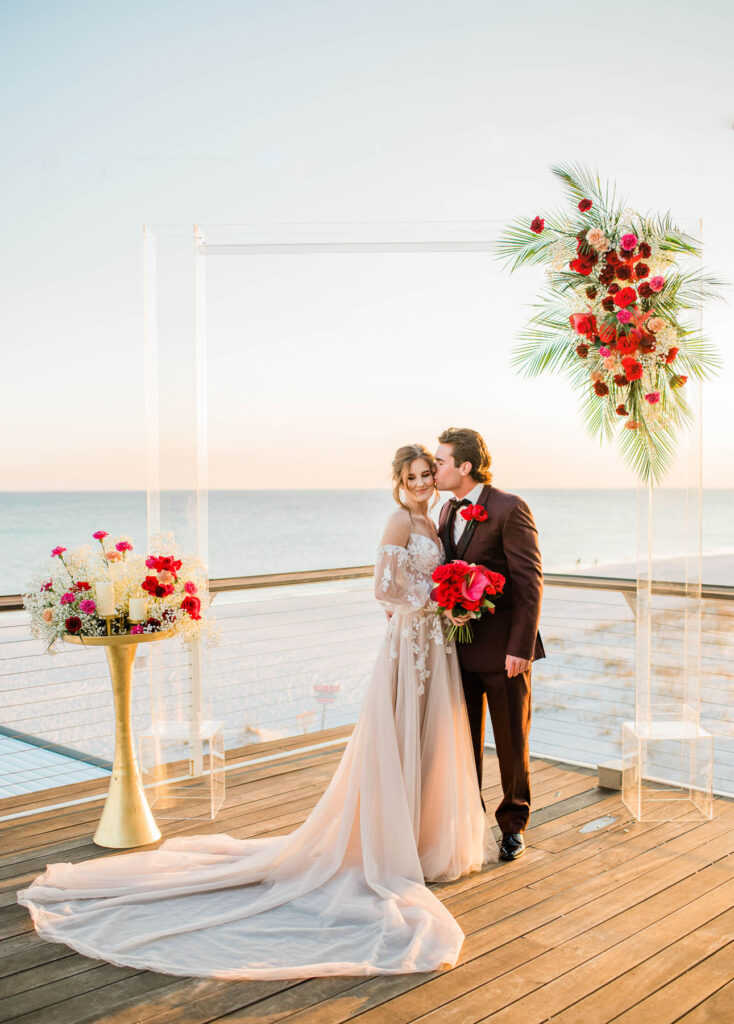 Pier Suite Event and Wedding Venue is just a few steps away from Pensacola Beach for breathtaking photos or first looks and is one of the only beachside event venues available in the Pensacola, Florida area.
The versatile event space floor plan acts as a blank canvas for couples to create a design that best suits their personal style. At Pier Suite Events, we provide the tables, linens, chairs, and space. Couples love that they get to customize the rest of the details to their exact taste. We can help guide you in choosing the perfect team of vendors that fits your needs.
A spacious balcony with an unobstructed view of the gorgeous Gulf Coast sits just outside the ballroom doors and makes an ideal space for celebrations under the sun.
Pier Suite owners, Laura and Michelle, love working with couples to help bring their dream wedding to life. Wedding packages include tables, linens, chairs, and the space. Click to review pricing or take a virtual tour of our beachside wedding venue.